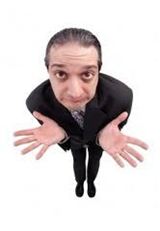 ¿Te has sentido así tras una reunión con un cliente escocés, o un posible cliente americano, coreano, de cualquier parte del mundo?
¿Se te ha quedado cara de boquerón cuando un cliente te ha venido a visitar y solo hablaba Inglés?
We know the feeling mate (sé cómo te sientes), no estás solo. No importa cuántos comerciales de exportación contrates. No hay nada mejor en una feria internacional o una reunión de negocios que el gerente de una empresa describiendo en buen inglés sus capacidades y servicios.
De hecho, nada convencerá mejor a tus clientes potenciales, que tu pasión, la autenticidad de tu propia comunicación y el conocimiento exhaustivo de tu industria y la pasión que te mueve a dar lo mejor en tu empresa.
Claro, para eso debes ser capaz de transmitir y comunicar en Inglés con el mismo grado de capacidad con que lo puedes lograr en Español.
Los cursos para empresas con profesores de Inglés tipo "J4w Arr Yu" no te han funcionado. Has probado infinitas empresas de formación bonificada que buscan cada Septiembre profesores con la única premisa de que sean nativos. Y las clases con profesores nativos sin experiencia ejecutiva te sirven para reservar el hotel, para conversar, pero no para cerrar un trato comercial complejo de miles o millones de euros.
¿Por qué no aprender Inglés con profesionales experimentados tras años trabajando en inglés? Ellos sí saben negociar, gestionar crisis en inglés y no porque lo han leído, sino porque lo han hecho. Lo han vivido.
Así sí lograrás aprender el tipo de Inglés que te dará el best ROI (para los de la logse: mejor Return On Investment, Retorno En  Inversion.)
Come on, Talk to Us!
Déjanos tu comentario y comparte este post.
---