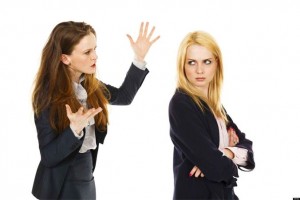 En la vida real, en un contexto de negocios, en ocasiones hemos de expresar desacuerdo o crítica. A veces deseamos hacerlo de una manera firme y directa.
Pero otras veces procuramos hacerlo de una manera menos directa y más diplomática. Los latinos en general y los españoles en particular somos particularmente directos, y nuestro estilo comunicativo muy a menudo se percibe como demasiado frontal.
¿Cómo puedes mejorar tu comunicación profesional en inglés para resultar asertivo y eficaz pero elegante a la vez?
Esta diferencia cultural afecta al éxito de nuestra comunicación de manera adversa. Puede provocar que sin pretenderlo dañemos una relación estratégica con un proveedor, un cliente, un socio, un empleado o un superior en nuestra organización.
La formación que impartimos en U24BUSINESS prepara a los profesionales españoles a entender cómo ajustar la comunicación en inglés de manera óptima mediante el conocimiento y ensayo de técnicas específicas. A continuación compartimos algunas de las maneras de expresar crítica según el efecto que busquemos en cada momento.
Expresar crítica de manera firme y directa:
​Your performance has been terrible / awful
Pero por lo general, utilizar este estilo de crítica nos aleja de nuestros objetivos. (Solucionar el conflicto, retener el cliente, mejorar la relación de trabajo) Por eso recomendamos un estilo menos fuerte y más diplomático. Si tienes que expresar crítica aprende a hacerlo evitando palabras con una connotación claramente negativa. Por ejemplo:
​
His performance was not very good
​
Her report was not really up to standard
Utiliza palabras "cojín" para amortiguar el efecto de la crítica y ayudarte a conseguir el efecto deseado.
Your work on the project was somewhat unsatisfactory
​
Her management of the team was a bit disappointing
Expresiones tales como unsatisfactory, below standard, o inadequate se pueden suavizar utilizando estas construcciones:
​
The quality of service is not really satisfactory.
​
The voice quality is not really up to standard.
​
Your work is not really adequate.
¿Te gustaría mejorar tu inglés de negocios y dominar la comunicación efectiva en inglés?
ACTIVITY
Estás profundamente decepcionado/a con el resultado del trabajo del albañil que te ha hecho la reforma en el baño. ¡Imagina cómo vas a expresarle que el suelo está muy mal colocado y los azulejos de la pared parecen un nudo de autopistas! En inglés…
Regístrate en este blog para recibir actualizaciones por email y te enviaremos gratis un .pdf con recursos para mejorar en estos aspectos.
---
Haz una Prueba de Nivel de Inglés Ya Mismo
Recursos gratuitos para practicar tu Listening
Lista de verbos irregulares en #inglés
¿Cómo se dice en inglés 'una mijilla'?
Adjetivos para describir personas
You might be aware of… when you…
Art is the proper Task of life
Aprende a usar correctamente In, On, At
TGIF – 'Por fin es Viernes' en inglés
¿Cómo usar el verbo to 'Spruce Up'?