Click here to see the English version
¿Por qué creamos el exclusivo BTB Club (Business Time Breakfast Club) y cómo funciona?
Los empresarios y profesionales están muy ocupados y necesitan técnicas y metodologías innovadoras que les ayuden a adquirir habilidades lingüísticas en dosis frecuentes y que reduzcan la carga mental en el proceso de hablar inglés de negocios con fluidez.
Como empresario o profesional dispones de muy poco tiempo. Sabemos que te preocupa no malgastarlo.
Por eso te ayudamos a conseguir cuatro objetivos en uno:
1-      Aprender / Mejorar tu inglés de negocios.
2-      Salir del evento desayunado y de buen humor.
3-      Conocer gente interesante y divertirte.
4-      Identificar posibles sinergias de negocio.
¿Qué hacemos en el exclusivo BTB Club?
Aprendes y mejoras tu inglés mientras lo hablas con más gente como tú mismo. Sin vergüenza. Es un evento profesional distendido en el que desayunamos y nos conocemos mejor en inglés. El evento es semanal y ofrecemos actividades adicionales en inglés fuera del mismo con otros BTB Teams en tu región o en España. Esto incluye actividades de ocio, deportivas, y ventajas en diversos restaurantes, instalaciones deportivas, hoteles, etc.
La membresía es mediante selección previa  y nuestros miembros participan en la misma. Para pertenecer a un BTB Team, los miembros existentes tienen que conocerte y aceptar tu membresía en ése BTB Team en concreto.
Además de pasar una entrevista, hay tres requisitos para solicitar ser miembro del BTB Club:
Tener un nivel A2 o superior. Haz click aquí para una prueba de nivel.
 Ser Empresario o Profesional.
Estar dispuesto a hablar solamente en inglés durante toda la sesión.
¿Quiéres ver cómo es la agenda del BTB?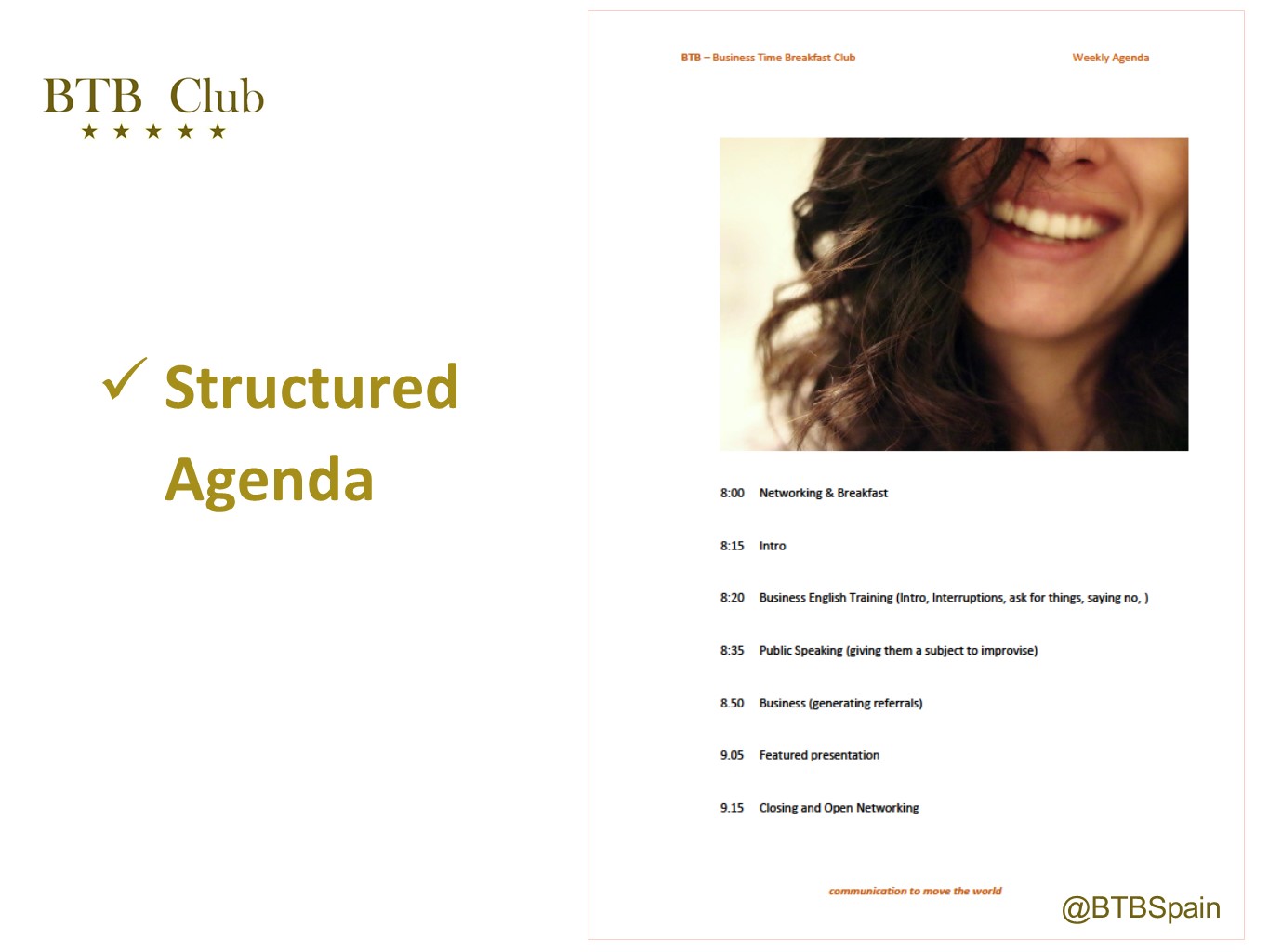 Reglas de juego
No pueden asistir profesores de inglés o personal de centros que impartan formación de idiomas que no sean personal de U24business.
Tienes que intentar hablar en inglés desde el principio hasta el final del evento.
Mediante role playing, actividades en grupo e individuales y dinámicas participativas conseguimos que hables inglés desde la primera sesión.
Puedes asistir hasta dos veces como invitado sin llegar a ser miembro del club.
No vengas solo si puedes evitarlo, invita a otro profesional o empresario.
El aforo es limitado. No puedes asistir si 1) no eres miembro, o 2) no te has registrado por email como invitado y has recibido confirmación por parte de BTB Club.*
La dinámica de juego incluye role playing, actividades en grupo e individuales y dinámicas participativas, para conseguir que hables inglés desde la primera sesión. Tienes que venir con una actitud super-participativa y mega-positiva.
Puedes y debes hacer negocio con los empresarios miembro del BTB Club en tu localidad u otra cualquiera y los invitados que acuden a cada evento. BTB Club pone a tu disposición herramientas avanzadas de marketing por recomendaciones para que hagas negocio para tu empresa de manera medible y sistemática.
Habrá actividades en inglés adicionales al evento semanal (deportivas, sociales, culturales, ocio, etc.) según demanda de los miembros de cada grupo.
* ¿Cómo puedes asistir como invitado?
Escribe a info@u24business.com o haz click en este enlace, e indícanos Nombre y Apellidos, Teléfono móvil, email y empresa, y la población en la que vives. Si el aforo lo permite te confirmaremos por email. Al llegar al evento abonas en efectivo 10,00€. (Desayuno incluido)
Lugar y fecha:   Según en qué localidad y club seas invitado. Una vez a la semana, siempre el mismo día de la semana.
¿Cómo puedes ser miembro del BTB Club?
Membresía del BTB Club:
–          Entrevista previa. Nuestros miembros participan en la admisión de nuevos miembros.
–          Duración Membresía 12 meses renovable.
–          Aceptación del Código Ético en BTB Club:
Actuar de buena fe con los demás miembros y personal de BTB Club.
Mostrar una actitud participativa y positiva.
Esforzarse por intentar hablar inglés en el evento.
Invitar al menos a una persona al mes a asistir.
Si no puedes venir, envía a alguien como invitado.
–         Socios de EMPREAN,y AJE disfrutan de condiciones muy especiales en el BTB Club.
Información de la empresa:
Spain

  info@u24business.com